George Washington Lock of Hair Brings an Incredible $35,764 in 2019 Winter Classic Auction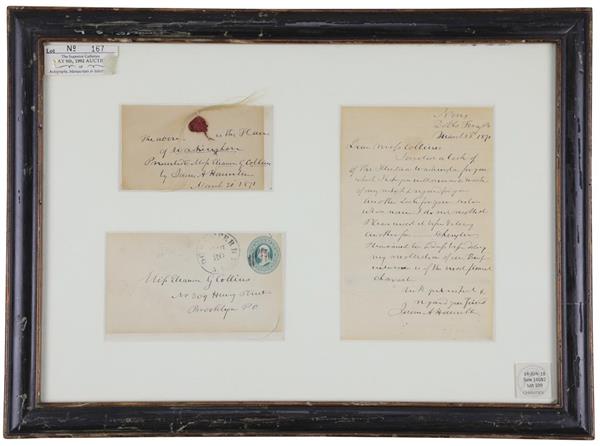 A lock of George Washington's hair emanating from the family of Alexander Hamilton sold for an astonishing $35,764 in the Lelands Winter 2019 Classic Auction, which closed last week.
The George Washington lock of hair was affixed for a century and a half to an autograph note signed by James A. Hamilton, former Secretary of State and the third son of Alexander Hamilton. A note presents the lock to Eleanor G. Collins on March 1871.The strands are gathered together with string and affixed to the card with sealing wax at top center and is vintage matted and framed.
The lock of hair comes with an autograph letter signed "James A. Hamilton" to Ms. Collins, Nevis, Dobbs Ferry, 20 March 1870 enclosing the aforementioned "lock of the Illustrious Washington […] as a mark of my respect and regard for you."
Additional political memorabilia featured in the auction includes a 1983 Brett Kavanaugh Georgetown Prep yearbook – a crucial piece of evidence in the Supreme Court nominee's hearings – President George H.W. Bush signed baseballs including a perfect 10, and an 1861 Abraham Lincoln signed handwritten letter.