Lelands Invitational Auction Highlights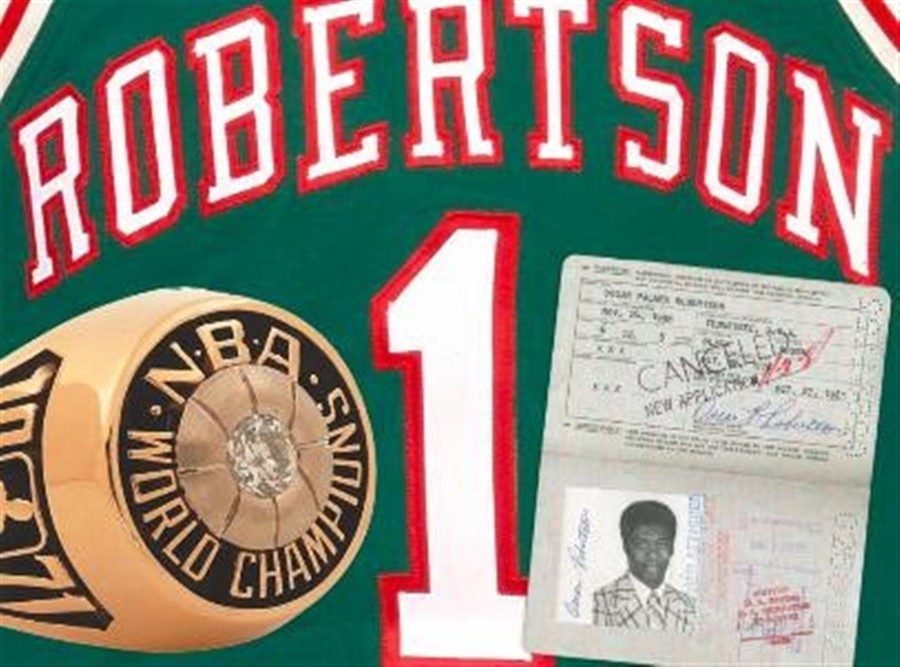 Basketball legend Oscar Robertson's personal collection of historic career memorabilia – headlined by his 1971 Milwaukee Bucks NBA championship ring – a late 1960s Johnny Unitas game-worn Baltimore Colts jersey and hockey great Guy Lafleur's 1976-77 Hart Memorial Trophy, highlight the Lelands.com 2018 Invitational Auction, which closes Aug. 17 and features more than 1,000 exceptional lots.
The most exclusive sports memorabilia and card event of the year, the Invitational also features a 1936 Jimmie Foxx Louisville Slugger game-used H&B vault marked bat, an amazing assemblage of more than one million high grade vintage baseball and sports cards from the 1950s - 80s – which was consigned by "the hoarder" – a 1959 Mickey Mantle All-Star game-used bat, a classic fur coat worn by Joe Namath and a historic offering of hundreds of PSA graded T206 cards originating from hobby pioneer Charles Bray.
Additional "Oscar Robertson Collection" highlights include The Big O's NBA 50th greatest players signed lithograph, game-worn jerseys from his playing days with the Bucks and at the University of Cincinnati, his Basketball Hall of Fame ring and Hall of Fame induction trophy, 11 of his NBA All-Star rings, his 1956 Indiana high school basketball championship ring, his 1958-59 College Player of the Year Award and so much more! Each item offered in this one-of-a-kind 51-lot collection will include a letter of authenticity signed by Robertson, considered one of the best players in NBA history.
The Lelands.com auction also boasts John Havlicek's 1971 signed 15,000th point ball, Jackie Robinson's 1951 LOOK magazine presentation watch, a 1941 Ted Williams game-worn Red Sox cap, a spectacular 1871 Eagle Baseball Club Poster, Nellie Fox's 1959 White Sox American League Championship ring, a pair of never-before-seen "Holy Grail" Carl Horner Imperial Cabinets of the 1903 White Sox and 1904 Red Sox, a 1948 Leaf Satchel Paige rookie #8 PSA NM 7, a circa 1927 Babe Ruth and Lou Gehrig dual-signed baseball, an early 1920s Tris Speaker game-used and factory side-written bat, a 2014 Bryce Harper game-worn walk-off home run jersey and several Mike Trout game-used bats.
Also up for auction is an 1894 Temple Cup program – one of the finest baseball programs known to exist and the only known copy in private hands – a 1966 Pete Rose game-worn Reds jersey and a Rose original silkscreen Andy Warhol, 1919 World Series "Black Sox" tickets to Games 1, 2, 5 & 6, a 1911 Maude Nelson girls baseball poster, a circa 1939 Hall of Famers signed baseball with five original inductees and Johnny Evers, a 1951 Bowman baseball complete set, a 1912 first-ever Fenway Park ticket, Lou Brock's 2011 St. Louis Cardinals World Championship ring and a circa 1907 Bobby Lowe Detroit Tigers game-worn jersey.
Other incredible items up for bid include an early 1970s Rod Gilbert New York Rangers game-worn jersey, a 1994 Wayne Gretzky Ninety-Niners game-worn jersey, Craig Patrick's Lester Patrick Award, a circa 1960 Jerry Lucas Ohio State game-worn jersey, a circa 1977 Bernard King game-worn New Jersey Nets jersey, a 1964 Cassius Clay vs. Sonny Liston signed full ticket, Sugar Ray Robinson's training gloves and a circa 1968 Pele signed game-worn jersey.
The Lelands.com auction also features an outstanding collection of horse racing memorabilia including a 1973 Secretariat Kentucky Derby winning race-worn horseshoe, a 1973 Secretariat Belmont Stakes nail, an American Pharaoh worn halter at Ashford Stud, as well as a horseshoe, halter and flysheet cooler worn by Seattle Slew.
In addition to the Unitas game-worn Colts jersey, other fantastic football memorabilia up for auction include a 1982 Jack Ham game-worn Steelers jersey, a 2010 Brett Favre Vikings 499th touchdown game-used jersey, a 1980 Franco Harris game-worn Pro Bowl jersey, a 1998 Dermontti Dawson game-worn Steelers jersey, a 1902 inaugural Rose Bowl program and a 1980s Heisman Trophy Bronze Statue.
The auction at Lelands.com also includes an exceptional lineup of vintage music and Americana memorabilia headlined by a 1984 Bruce Springsteen "Born in the U.S.A." main stage guitar, the only known photo of JFK and Marilyn – from official JFK White House photographer Cecil W. Stoughton – a Playboy #1 with Marilyn Monroe cover, a 1967 Colonel Sanders personally worn and owned suit, a 1948 James Dean twice-signed high school yearbook and a slice of wedding cake – in its original tin – from the 2011 wedding of Prince William and Catherine Middleton.
The 2018 Invitational Opens on July 15 and closes on Augusy 17.