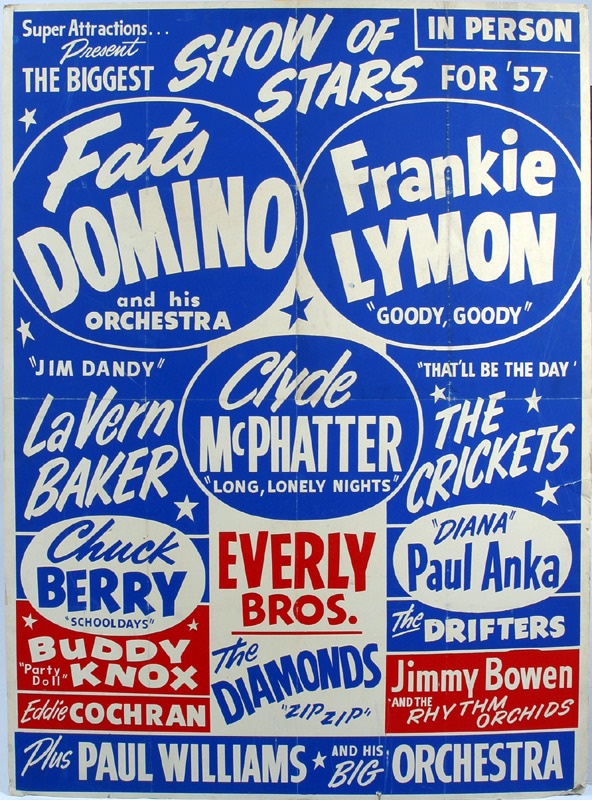 '57 Biggest Show of Star Poster
This magnificent poster for 1957's "The Biggest Show of Stars" -- the only copy known to exist -- is not merely a visual feast and a virtual directory of early rock & roll but something deeper: a confirmation that rock & roll came into being on the divergent musical styles of black and white performers, with an emphasis on the former. Rarely before this tour had Middle America ever seen the R&B talents that headlined the show, though increasing numbers of white kids had been turned on to the radio stations that dared play "race music" by "Negro" artists. The heyday of these shows occured during a ten-year period running roughly from 1955 to 1964. The primary feature that distinguished them from today's concert appearances by touring rock stars was that the program included not one, not two, not three major attractions, but as many as a dozen popular rhythm and blues recording artists. All in person, all on one stage, the performers did not bring their own accompanists. Rather, a full orchestra was on hand to provide the backup for any performer who needed it. The Paul "Hucklebuck" Williams band played both before and after the concert. The afterwards part was the "dance," as those in the audience were invited onto the stage to enjoy themselves into the wee hours. Incredibly, whites were assigned to sit in the balcony! The main floor was reserved for blacks. Also, whites were not welcome to stay for the dance which followed the show. How times do change. Indeed, the years since this show seem more like light years, sociologically and for collectors alike. The programs and posters from these shows are absolutely scarce, seldom turninng up in auctions or flea markets. New York disc jockey Alan Freed had hosted a number of rhythm and blues "cavalcades" that caused quite a stir due to the enthusiasm of the mixed race audience. Many of the acts at this show were veterans of the Freed shows, and it's significant that major white acts like the Everly Brothers, Paul Anka and Eddie Cohran accepted lower billing here. After Elvis soared to musical heights singing "race music," the billing order on such tours would be reversed, if blacks were even included at all; more and more, they'd have to tour on all-black reviews. As for the "Biggest Show", it was produced by Super Attractions, owned by Atlantic Records Sales Manager Irvin Feld, who wanted to compete with Freed's "Rhythm Review" shows. On September 6, 1957 the tour hit the road. Starting in Pittsburgh and lasting about 45 days, this poster was put up at Columbus, Ohio's Memorial Hall, top-billing Fats Domino and Frankie Lymon, with the next level of billing given to LaVern Baker, Clyde McPhatter and Buddy Holly's Crickets (who'd had only 1 hit until then, "That'll Be The Day"). Others were Chuck Berry, the Everlys, Anka, Buddy Knox, the Drifters, Diamonds, and the Jimmy Bowen and Paul Williams Orchestras. The poster is a 3-sheet size, standing 40 x 55" mounted on foam core as opposed to ordinary cardboard, and is not only is it truly remarkable for a paper poster of this size to exist today, it is also in excellent condition (not to mention that all of the black performers, and most of the white ones, are Rock and Roll HOFers). There is some general soiling and irregularities along the borders and creases at the corners, but these are hardly visible at a distance. The color scheme is mostly white lettering on a blue background (some white on red, some blue on white), and the colors are vibrant and pulsating. We can think of no more enlightening piece of rock history that can better teach us what rock and roll is all about, or was all about. And it's all on one poster.
---
Past Sports Card, Memorabilia, Non-Sports Card and Collecitble Auction Items
Other past auction items that may be of interest to you.