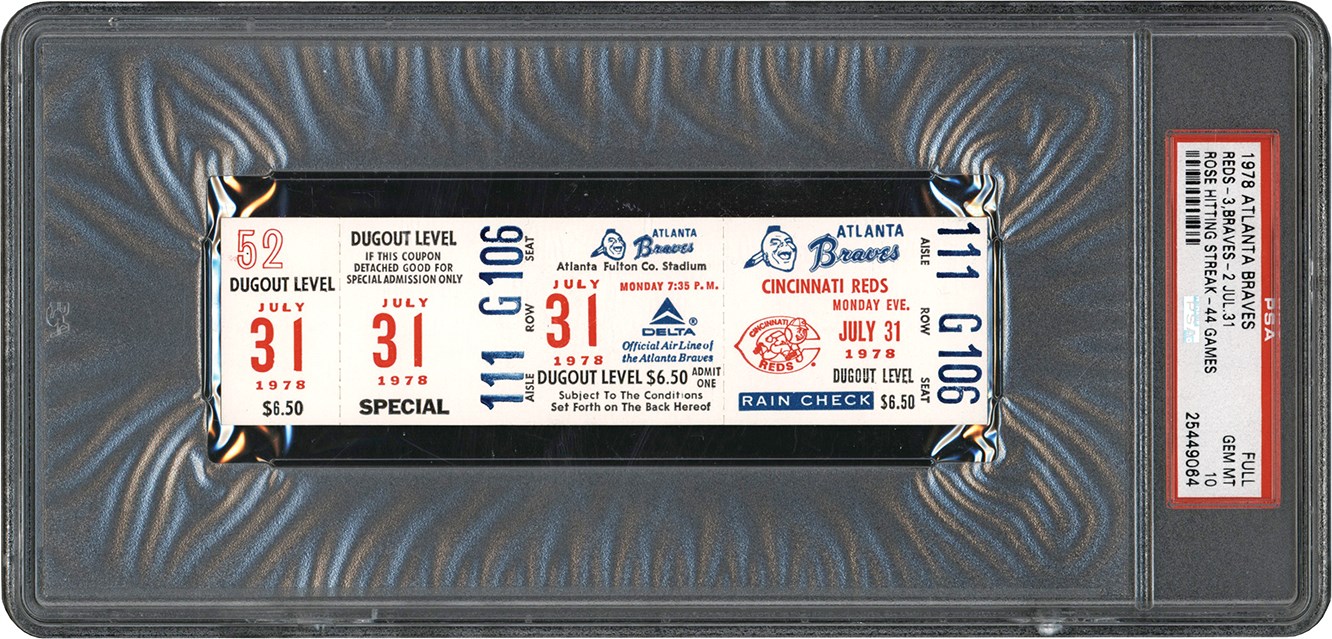 978 Pete Rose Record Setting 44-Game Hitting Streak Full Ticket PSA GEM MINT 10 (Highest Graded)
Presented is the opportunity to own a very rare PSA Gem Mint full ticket from the July 31, 1978, Cincinnati Reds at Atlanta Braves game at Fulton County Stadium when Pete Rose tied Willie Keeler for the longest hitting streak in National League history at 44 games. Rose had already passed the modern NL hit streak record of 37 set by Tommy Holmes. Rose spoke of his batting talent. "I'm just like everybody else," said Rose. "I have two arms, two legs and four-thousand hits." The all-time Major League Hit King. with 4,256 hits, is still kept from the Baseball Hall of Fame because of his betting on baseball games, but no one ever said that Rose didn't always play at all-out effort. Compared to the average man on the street, Rose had great talent, but his natural athletic talent was not outstanding in comparison with that of other Major Leaguers. Rose made up for it with effort. "If you have someone equal in ability to me," said Rose, "I will beat him every time because I will try harder." Rose entered the game with a 43-game hitting streak, and there was much media speculation not only about whether he could break the NL record, but about whether he could break Joe DiMaggio's Major League consecutive game hitting streak record of 56, set in 1941. Rose was facing Hall of Fame pitcher Phil Niekro, mainly a knuckleballer. Rose came up in the 6th inning, hitless. Behind in the count at 2-0, Niekro threw a fastball that Rose hit into right field for a single to tie the old Baltimore Orioles' franchise Hall of Famer Wee Willie Keller. The Atlanta crowd cheered loudly as Rose tied the all-time record. The Reds won the game, 3-2. The next day, on August 1st, Rose attempted to break the NL consecutive hit record, and he went into the last inning with the Reds trailing 16-4 for what would almost certainly be his last chance at the record. Earlier in the at bat, against the Braves' Gene Garber, Rose attempted to bunt, but was not successful. With the count at 2-2, Rose expected Garber to challenge him with a fastball, but Garber threw a change-up, which surprised Rose, who struck out. Rose had tied Keller, but DiMaggio was safe. The full ticket measures 1.5x5.5" for a $6.50 Dugout Level seat. The full ticket has been encapsulated and PSA graded "GEM Mint 10." There are only five full tickets to the July 31, 1978, game graded at this level, and this is one of the five highest possible PSA grades for a full ticket to this game - a PSA Gem Mint 10.
---
Past Sports Card, Memorabilia, Non-Sports Card and Collecitble Auction Items
Other past auction items that may be of interest to you.