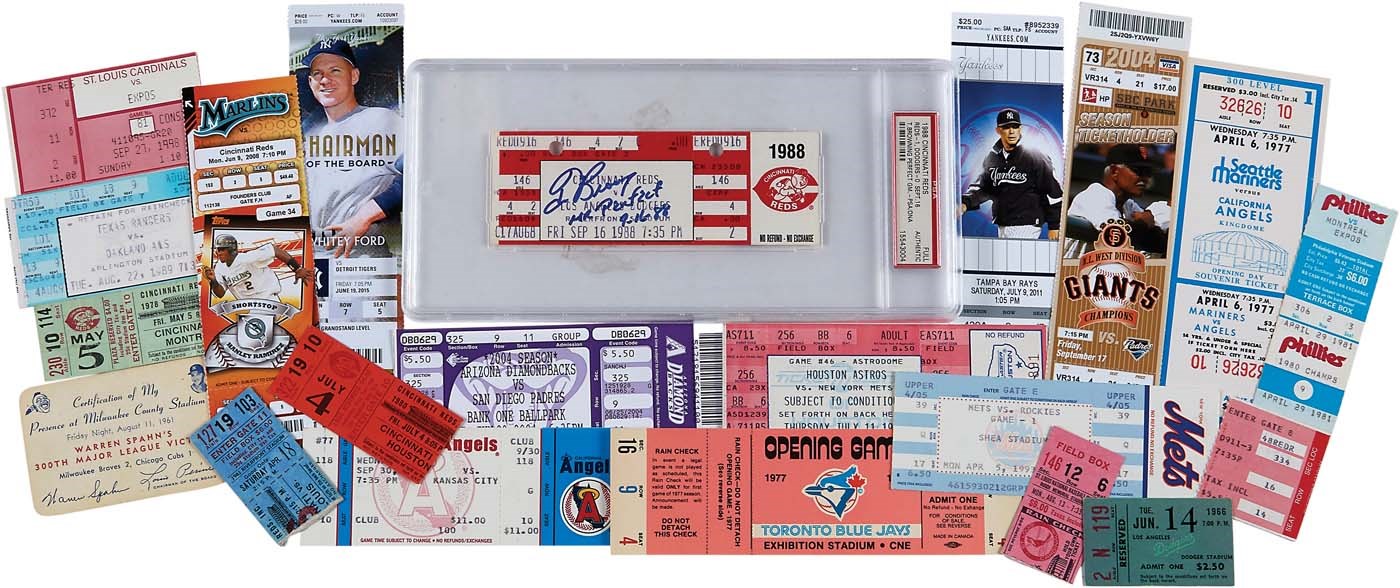 Fantastic Baseball Milestone Ticket Collection (75+)
1) 3,000 hit tickets - Pete Rose, Brock, Jeter, A-Rod, Brett, Gwynn, Ripken Jr., Biggio, Palmeiro. All full tickets except Rose & Brock. 2) Perfect Games - R. Johnson, Cone, Wells, Halladay, Buehrle, D. Martinez, Browning (signed, PSA auth.), Humber, Braden, Rogers, Galarraga (infamous near-perfect game). 3) 500 Home Run tickets - Griffey Jr., A-Rod, Sosa, McGwire, Pujols, F. Thomas, M. Ramirez, Sheffield (4), Thome, Palmeiro. 4) 600 Home Run tickets - Bonds, Griffey Jr., Thome, A-Rod, Sosa. 5) 700 Home Run ticket - Barry Bonds. 6) 1998 Mark McGwire HR record #62-70 tickets. 7) 3,000 strikeout - Ryan, Seaver, R. Johnson, Clemens, Maddux, Carlton, Smoltz, P. Martinez, Schilling. 8) 4,000 strikeout tickets - Nolan Ryan & Randy Johnson. 9) 5,000 strikeout ticket - Nolan Ryan. 10) 300 win tickets - R. Johnson, Spahn (pass), Perry, Glavine, Clemens, Sutton, Maddux. 11) 20k game tickets - Randy Johnson, Roger Clemens (1986, 1996). 12) 600th Save - Mariano Rivera & Trevor Hoffman. Others include Nolan Ryan's last game, Barry Bonds 73rd HR game, Mark Buehrle no-hitter, Inaugural game tickets: Blue Jays, Rockies and Mariners, Pete Rose hit #4192 stub and three (3) stubs from Sandy Koufax 6/14/66. 50 are full tickets, rest stubs. Every ticket is labeled with the milestone.
---
Past Sports Card, Memorabilia, Non-Sports Card and Collecitble Auction Items
Other past auction items that may be of interest to you.