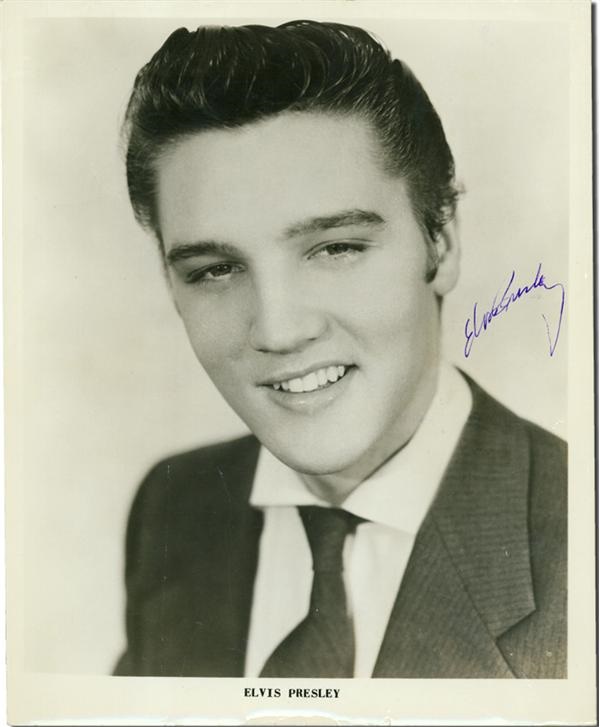 Incredible Elvis Presley Signed Photo (Circa 1955)
This is the way Elvis should be remembered -- as the Boy King -- though when this unfathomably rare, signed early publicity photo was taken circa 1955, the throne was still a ways off. Indeed, the only seat Elvis had become accustomed to was the driver's seat of a truck on the back routes of Memphis. Still, as his cocksure smile -- with the hint of the curled-lip that would soon become his trademark -- attests, the kid knew he was somethin' special. One day, he seems to be thinking, I'm gonna own this town. It was that assured, confident attitude that made it happen -- and extended the boundaries of his fame far beyond the Memphis city limits. Yes, that is the Elvis we revere. Not the one mummified by rhinestone-studded jumpsuits and wraparound shades throwing sweaty hankies to middle-aged women in surgical panty hose, but the lean young man in an ill-fitting shirt and crooked tie, bursting with a desire to pick up a battered old acoustic guitar and play and sing the blues the way no white boy had ever considered doing it -- like a black bluesman. It was a wild dream, one that seemed utterly off the wall, even laughable in an era when white and black music existed in separate and distinct orbits. Yet that lean and young Elvis was on his way -- a reality further ingrained in this precious piece of pop culture history, in the signatures on both sides of the 8 x 10" photo. The priority, of course, is Elvis' marker in blue ink just to the right of his image in that off-the-rack suit and tie. This is a unique Presely signature, less controlled and more carefree, with a long tail to the "y" that he no doubt enjoyed etching with a flourish. The ink flow is solid, making this a top-of-the-charts early Elvis 9/10! The back of the photo offers some bonus doubloons, in the signatures of 3 of Elvis' earliest studio side men -- the top one by Scotty Moore, the guitarist who was right there at the beginning with Elvis. Moore met the obscure young singer on Sunday, July 4, 1954 in Memphis. The very next day, Scotty and Elvis -- with Bill Black on bass and Sun Records founder Sam Phillips in attendance -- recorded "That's All Right" in the freewheeling style that brought together country and blues. They took a similar approach to bluegrass "Blue Moon of Kentucky." With these spontaneous breakthroughs, both sides of Elvis's legendary first single -- and the first new strains of rock and roll -- were in the can. Notably, the single (Sun 209) was credited to "Elvis Presley, Scotty and Bill." Moore and Black, joined by drummer DJ Fontana, served as Presley's band onstage and on record until March 1958, when Moore and Black quit in a dispute over wages, but rejoined Presley for the televised 1968 "comeback special." Moore -- who has been inducted into the Rock and Roll Hall of Fame -- signed, "Best wishes Scotty Moore" in blue pen, also a 9/10. The other signatures belong to guitarists Jimmy Rollins and Harland Powell, 2 veterans of the '50s country music circuit who often teamed up with Sonny James. They also added "best wishes" to ther signatures in pencil, both grading 7/10. The photo itself has withstood time as well as "Heartbreak Hotel", with a smattering of light damage around the edges and a trace fold on the upper left corner, but overall VG-EX. We are talking something very, very special here, a one-of-a-kind and then some given the signatures of some rock and country all-timers. And that's all right, mama.
---
Past Sports Card, Memorabilia, Non-Sports Card and Collecitble Auction Items
Other past auction items that may be of interest to you.