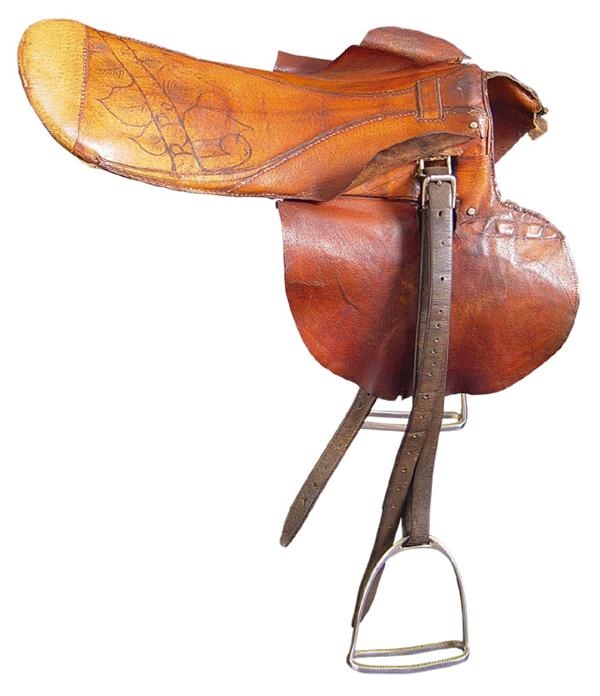 Red Pollard's Seabiscuit Saddle
The story of Seabiscuit, the little horse that could, captured the hearts and minds of pre-War America, and then again in 2002 with the publication of the bestselling Laura Hillenbrand book, "Seabiscuit, An American Legend" and the subsequent hit film. The classic tale of an underdog, horse, trainer, owner and jockey, never fails to inspire. Offered is an amazing relic from that incredible time and place, jockey Johnny "Red" Pollard's personal thoroughbred racing saddle, one he wore upon the back of the legendary Seabiscuit. The saddle originates from the McTaggart family of Montana. Back in 1925, a teenage Red Pollard found himself alone and penniless in Butte, Montana. His dream was to become a jockey, and thanks to his meeting the prominent Butte politician/businessman Archie McTaggart, that dream began to come true. How the two met is unclear, what is known is that the 41 year-old Archie, and the 15 year-old "Red" developed a sort of father-son relationship. Archie was a powerful man, a future two-term Mayor of Butte, and the story goes that Archie pulled some strings and helped the young Red stay in the U.S. when he was in danger of being deported to Canada. Another story refers to Archie's sister Mabel, who was married to Guy Barber, a prominent horse trainer in California and Tijuana. Red became friends with Mabel and her husband and it was in Tijuana that the next chapter in Red Pollard's storied career began. It was there that he met another important character in the Seabiscuit story, legendary jockey George Woolf. Over the years, Red kept in touch with his mentor Archie McTaggart, who was undoubtedly proud of his protege's incredible accomplishments. After Seabiscuit's amazing victory at the 1940 Santa Anita Handicap, Pollard sent Archie this saddle, along with an autographed victory photo which he signed "Hello Arch, I done it and I'm glad, Red Pollard" (this piece is sold as a separate lot). The saddle has remained in the McTaggart family ever since. The saddle has "R. Pollard" hand drawn in ink in a diagonal stripe across the seat of the saddle, embellished with a leaf design. The year "1934" and a woman's name "Lucille Johnson" are also faintly legible on the saddle. There are other names and words on the saddle, however they are too faint to read. It is interesting to note that it was not uncommon for jockeys of that time to have their current girlfriend, fiance or wife write their name on the saddle for luck. The saddle is in overall Excellent condition, considering both its age and the fact that it has not been ridden since 1940. It includes both the stirrups and the leathers, and measures 13 ? inches pommel to cantle and 18 ? inches from flap to flap. It weighs 1 lb. 11.6 oz. While it is not possible to definitively state in which races Pollard used this saddle, it is known that jockeys tend to be superstitious and want to ride their tried and true saddles in important races. The saddle is accompanied by a lengthy LOA from the McTaggart family, complete with letters, photographs, and newspaper articles describing the history of the piece.
---
Past Sports Card, Memorabilia, Non-Sports Card and Collecitble Auction Items
Other past auction items that may be of interest to you.