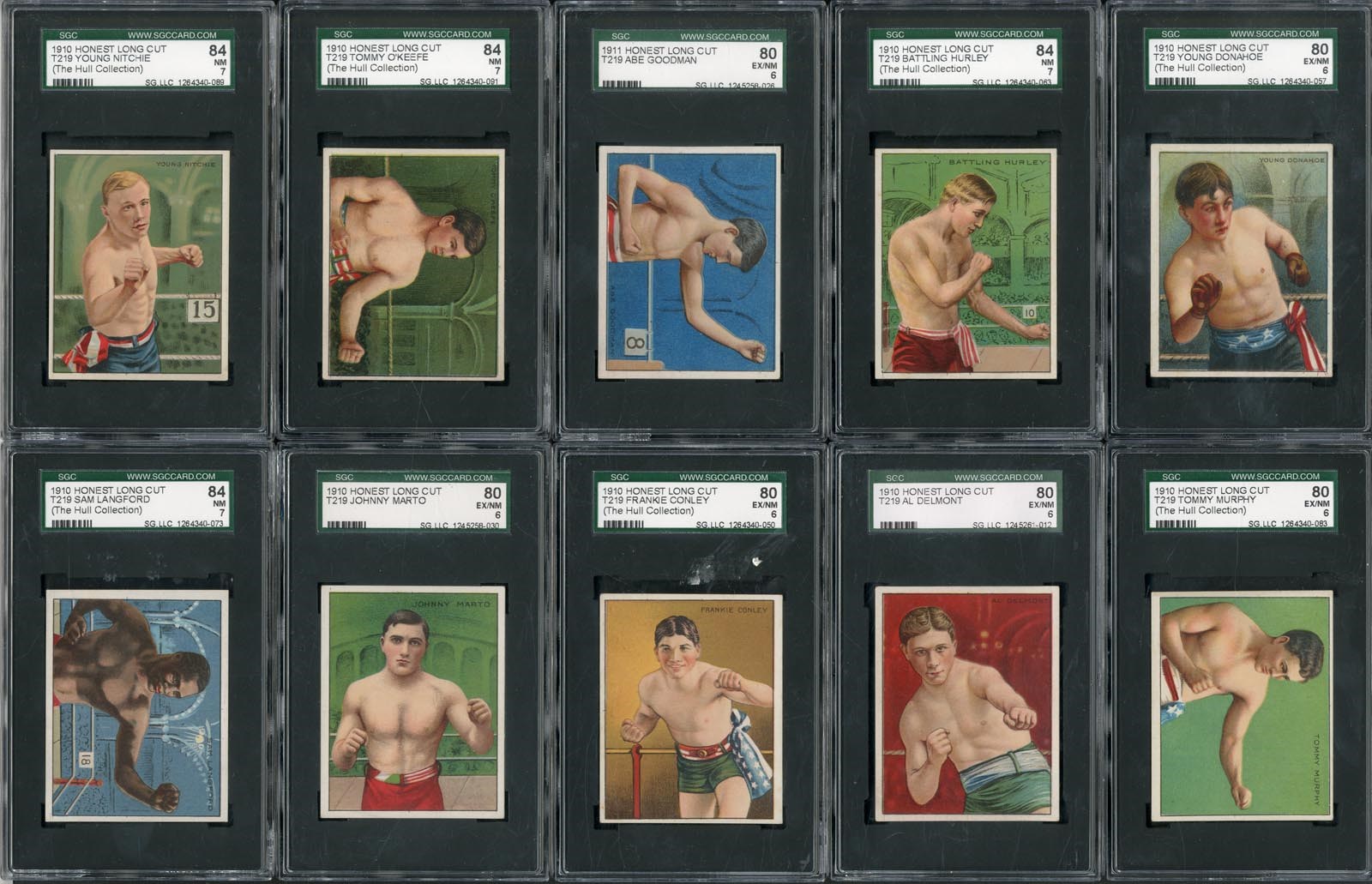 1910 Honest Long Cut T219 Complete Set (SGC)
Though at first glance this issue appears to be a smaller copy of some of the T218 boxers, the issue has a lot to offer. All T219s are much tougher than T218s and were scaled down to be issued with different brands of tobacco than T218. The basic cards in the set are the Honest Long Cut ("HLC"), which have black or green backs. Given that the average HLC T219 is considerably scarcer than the average T218, any higher grade HLC T219 is itself a significant card. The run of SGC 80 and 84 cards in this set is tremendous; the Sam Langford SGC 84 is the centerpiece of the set. Currently the second highest graded SGC set (Jim Heffron's HLC T219) with an average grade of 57.92. Also, a few of the cards in the set have been upgraded and replaced with higher graded cards. Set includes: Abe Attell SGC 20, Matty Baldwin SGC 50, Patsy Brannigan SGC 60, Knock-Out Brown SGC 50 (upgrade), Frankie Conley SGC 80, Young Corbett SGC 60, Johnny Coulon SGC 50, Leach Cross SGC 50, Al Delmont SGC 80, Dave Deshler SGC 50, Young Donahoe SGC 80, Jim Driscoll SGC 60, Abe Goodman SGC 80, Jack Goodman SGC 70, Battling Hurley SGC 84, Joe Jeannette SGC 60, James J. Jeffries SGC 70, Jack Johnson SGC 40, Al Kaufman SGC 50, Stanley Ketchell SGC 70, Bert Keyes SGC 40, Frank Klaus SGC 60, Patsey Kline SGC 60 (upgrade), Sam Langford SGC 84, Harry Lewis SGC 50, Willie Lewis SGC 60, Young Loughrey SGC 80, Johnny Marto SGC 80, Packey McFarland SGC 70, Phil McGovern SGC 60, Honey Mellody SGC 40, Owen Moran SGC 60, Tommy Murphy SGC 80 (upgrade), Frankie Neil SGC 60, Battling Nelson SGC 60, Dick Nelson SGC 70, Young Nitchie SGC 84, Jack O'Brien SGC 60, Tommy O'Keefe SGC 84, Tommy O'Toole SGC 50, WM. Papke SGC 80 (upgrade), Unk. Russell SGC 80, Jim Stewart SGC 50, Harry Stone SGC 60, Jack Sullivan SGC 40, Mike Sullivan SGC 50, Jimmy Walsh SGC 60 (upgrade), Fred Welsh SGC 60, Billy West SGC 60 and AD. Wolgast SGC 70.
---
Past Sports Card, Memorabilia, Non-Sports Card and Collecitble Auction Items
Other past auction items that may be of interest to you.