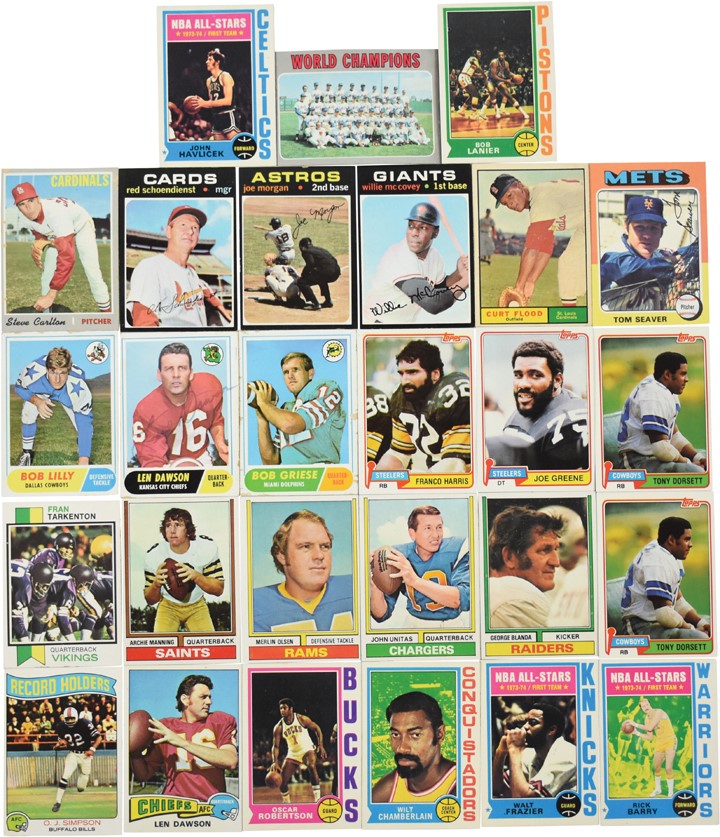 1950s-70s Sports Card Collection
Large collection of Topps cards from the 50's, 60's and 70's – all told, over 3000 cards! Condition varies greatly, especially in BASEBALL, and note that a significant number of cards (approx. 10%) are either off-center or miscut, some significantly. A good deal of duplication also abounds. But there is also a lot of value and enjoyment in these cards, sure to help while away the blues if you're looking for a winter project! The collection includes:BASEBALL (mostly VG, except as noted):1957: 101958: 651959: 301960: 651961: 225, mostly EX1962: 65, inc. Mays AS1963: 1401964: 201965: 151966: 151967: 151968: 1201969: 7, inc. Marichal (PR), Aparicio1970: 30, mostly EX, inc. Mets team (#1), Carlton1971: 460, mostly EX or better, inc. McCovey, Morgan1972: 60, mostly EX or better1973: 70, mostly EX or better1974: 70, mostly VG-EX to EX1975: 40, mostly EX-MT, inc. SeaverPlus (3) 1975 SSPC complete Mets team sets (22 cards)FOOTBALL (mostly EX-MT, except as noted):1964: 30, mostly VG1968: 135, mostly GD-VG, inc. Star (2), Blanda, Gabriel, Lilly, Dawson (signed), Griese1973: 15, inc. Gabriel, Tarkenton1974: 280, about half are oc or miscut; inc. Stabler (5), Blanda, Unitas, Olsen1975: 200, most are badly miscut; inc. Dawson, Simpson1976: 50, most are badly miscut; inc. Bradshaw, Staubach1981: 30, inc. Greene (8), Harris, Dorsett (2)1982: 20, inc. HarrisPlus 1983 Sunbeam, LSU Tiger Greats team set, inc. TittleBASKETBALL (mostly EX-MT, except as noted):1971: 25, mostly VG-EX, edge chipping1972: 10, edge chipping1973: 20, inc. Unseld1974: 250, inc. Robertson, Chamberlain, Lanier, Bradley, Frazier AS, Barry AS, Havlicek AS1975: 5, inc. Bing, MonroeAnd even a handful of asst'd 70's hockey! This is an amazing collection of Topps sports sets from the 50's thru the 70's - grab them and have some fun!Total of 2600+ cards.
---
Past Sports Card, Memorabilia, Non-Sports Card and Collecitble Auction Items
Other past auction items that may be of interest to you.