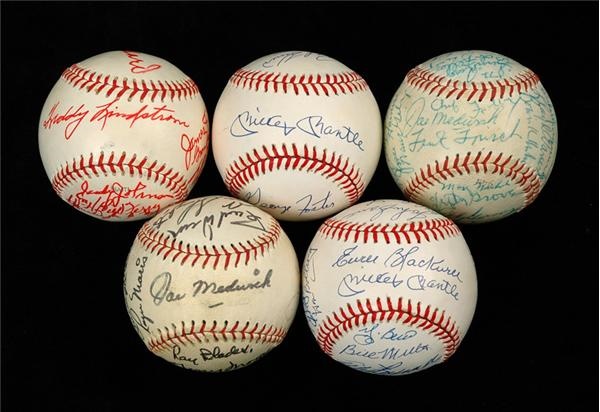 1970s Cooperstown Hall of Fame Induction Signed Baseballs (19)
Stunning collection of signed baseballs includes some beauties signed at the old Induction weekends at Cooperstown when you could access HOFers for free. The cream of this crop are multi-signed Induction baseballs. On non-Official bb's unless noted, many of the HOF baseballs signed in black or red marker (stable and beautiful). 1) 1977 with 23 sigs: Mrs. Babe Ruth, Leonard, Grove, Haines, Marquard, Giles, Rice Cronin. EX. HOF baseball. 2) 1972 with 39 sigs: Grove, DiMaggio, Koufax, Hafey, Cronin, Frick, Rice, Giles, Marquard, Medwick, Stengel, Hooper, Haines, Frisch, Josh Gibson Jr. EX. OAL. 3) 1976 with 8 sigs: Covaleski, Lindstrom, Hubbard. NRMT. 4) 1978 with Lindstrom, Cronin, Grimes, Campy. 9 sigs, NRMT. 5) 1975 with 13 sigs: Marquard, L. Waner, Bell, Leonard, Johnson. NRMT. HOF baseball. 6) 1970s with 8 sigs: Lindstrom, Terry, Grimes, Hubbard. NRMT. 7) 1979 with 17 sigs: Paige, Grimes, Covaleski, Cronin, Sewell, L. Waner. NRMT. 8) 1978 with 18 sigs: Sewell, Conlon, L. Waner, Grimes. NRMT. 9) 1979 with 16 sigs: Paige, Grimes, Sewell, Mays, Durocher, L. Waner, Covaleski. NRMT. 10) 1970s with 19 sigs: Maris, Mantle, DiMaggio, Haines, Stengel, Hafey, Dean, Medwick. EX+. 11) 1978 with 13 sigs: Covaleski, Sewell, Campy, Cronin, L. Waner, Bell, Grimes. NRMT. 12) 1978 with 14 sigs: Newhouser, Gehringer, and lots of sportswriters. EX-MT. 13) 1978 Michigan Sports HOF with 7 sigs: Gehringer, Newhouser, Ted Lindsay, Delvecchio. NRMT. Balance of the balls were signed more recently and are all NRMT and OAL/ONL. Includes: Mantle/Mays and 3 others, Yankee Greats baseball with Mantle & Martin (16 sigs), Yankee Greats baseball with DiMaggio and Mattingly (10 sigs), plus three other multi-signed HOFers baseballs.
---
Past Sports Card, Memorabilia, Non-Sports Card and Collecitble Auction Items
Other past auction items that may be of interest to you.