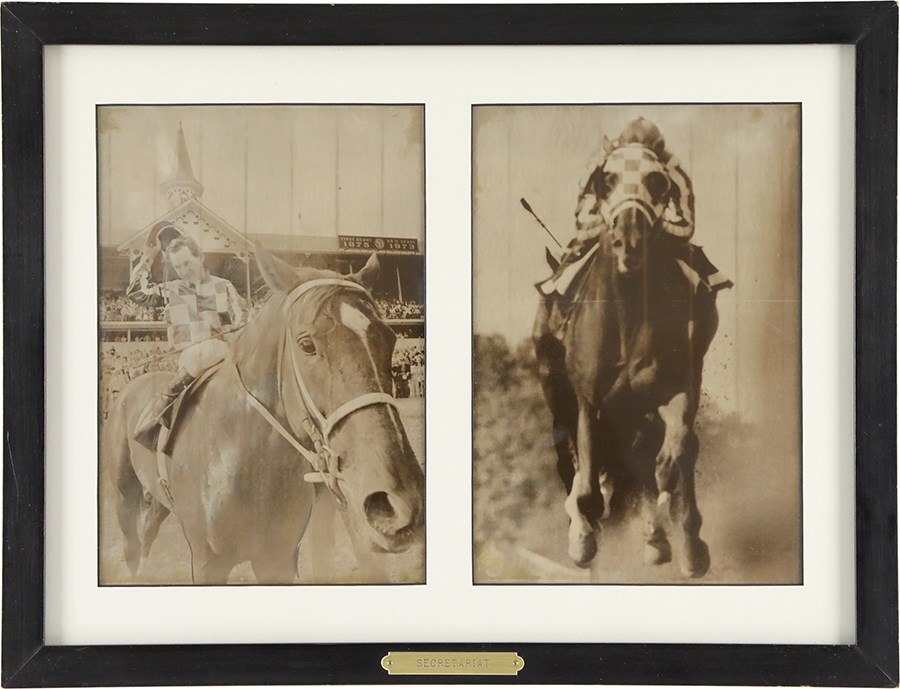 1973 Secretariat Wire News Photos Framed Display
"They're on the turn and Secretariat is blazing along," said announcer Charles Daniel Anderson at the 1973 Belmont Stakes. "The first three quarters of a mile was in 1.09 and four-fifths. Secretariat is widening now.... He's moving like a tremendous machine!" Those memorable words testified to the miraculous race that Secretariat ran as he won the final leg of the American horse racing Triple Crown. Offered is a framed display with two original wire photos sent by wire transmitting. Secretariat won the '73 Belmont Stakes by a record breaking 31 lengths, with a record-breaking time of 2.24, and he became the first Triple Crown winner in 25 years. In each leg of the '73 Triple Crown, Secretariat set record times. His time in the '73 Belmont Stakes is still the American record for 1 1/2 miles on a dirt track, and his time at Churchill Downs in the '73 Kentucky Derby, at 1 minute 59 and two-fifths, is still the track record for 1 1/4 miles. In a 1999 issue of Blood Horse magazine, Secretariat was named as the second-best horse of the Twentieth Century, behind only Man o' War. Known as "Big Red", Secretariat was sired by champion Bold Ruler. Secretariat had an unusually large stride, measured before the 1973 Preakness as 24', 11". That immense stride and his exceptional heart capacity enabled Secretariat to simply run away from his competition. Offered are two original news photos of Secretariat sent by wire transmitting. Each of the black and white photos measures approx. 6" x 8.5". The photo on the viewer's right shows Secretariat as he races down the stretch in a race not identified, with no other horses in sight. The photo on the left shows jockey Ron Turcotte happily doffing his helmet as Secretariat approaches the Winners' Circle after this race gave Secretariat the first leg of the 1973 Triple Crown in the Kentucky Derby at Churchill Downs. The photos are matted and framed at 12" x 16". On the bottom front part of the photos is a small (approx. 0.75" 2.5") metallic plaque reading "Secretariat." The news photos display makes an excellent visual tribute to Secretariat, whose immense, power laden, beautiful strides stirred the hearts of countless admirers. As George Roward, a famous horse breeder, owner and a noted writer on horseracing said, "Years after the fact, when people asked me how I got into the horse business, the answer was always the same, "I saw Secretariat."
---
Past Sports Card, Memorabilia, Non-Sports Card and Collecitble Auction Items
Other past auction items that may be of interest to you.