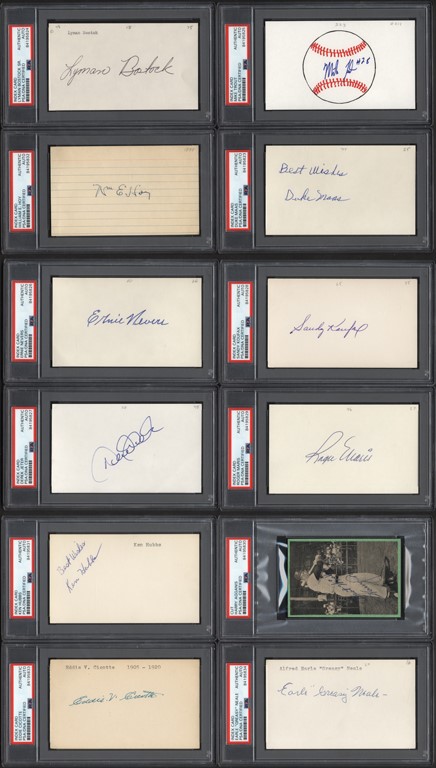 Massive Collection of Signed Baseball Index Cards (Aprrox. 15,000)
Tremendous collection of baseball player signed index cards from a life-long and enthusiastic collector. This collection has been a tremendous undertaking and consists of approximately (15,000) signatures that were painstakingly collected through in-person signings, through-the-mail and trading with like-minded collectors. The overwhelming majority are on 3x5" index cards and are signed in at least 8/10 ink with many stronger and span the years from 1900 to 2015. Included are over 200 Hall of Famers but in our opinion, that is not the greatest part of this overwhelming collection. The highlight is by far the large amount of scarce players who only played only a year or even a few games in the majors. Also included are rare signers whose careers were cut short and the numerous "tough signers." Hall of Famers include Manush, Hafey, Hartnett, Traynor, Sisler, Rice, Frisch, Southworth, Schalk, Hooper, Baker (check cut), Griffith (letter cut), Flick, Crawford, Fox, Koufax, Gordon, Grove, Cochrane (cut), Greenberg and many more. Also found are umpires with the likes of Cal Hubbard and Emmit Ashford, executives and owners with August Busch Jr and Carley O'Finley, tragic figures who died during their careers like Lyman Bostock and Ken Hubbs, managers like Casey Stengel and Fred Hutchinson, 1919 World Series players like Ed Cicotte and Dick Kerr, players who excelled in other sports like George Halas and Ernie Nevers and even modern stars like Mike Trout (early signature when he was in the minors) and Derek Jeter just to name a few. Other highlights include McInnis, C. Meyers, Schang, G. Burns, J. Bush, L. Dyle, Snodgrass, Flood, Farrell, Drysdale, Aaron, Ehmke, C. Mays, Durst, Maas, Neale, Hoy, Agganis (signed newspaper photo), Maris and more. There is even a section that is just players who appeared in the minors that makes up less than 10 percent of the total collection. With very little duplication noticed (1%) this is a very large collection and considering some were obtained through the mail, please account for about 1% being secretarial.
---
Past Sports Card, Memorabilia, Non-Sports Card and Collecitble Auction Items
Other past auction items that may be of interest to you.