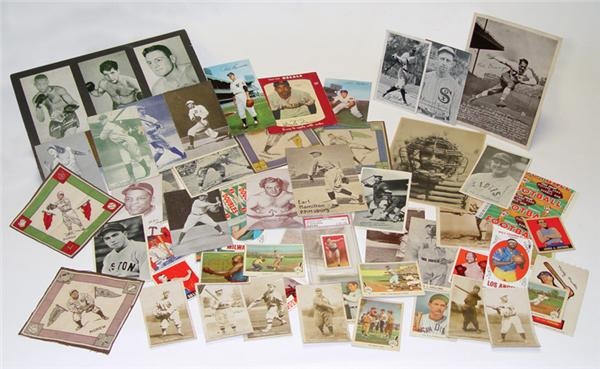 Tremendous Assortment of Baseball and Other Sports Cards (2,000+ cards)
If you are looking to get your hands on some rare issues that do not come up for auction in groups of this size all too often, keep reading this description because this collection of sports cards is tremendous in its complexity and volume. With cards representing nearly 50 different sets this collection has a bit of everything. Included are 1934 Goudey Near Set, Our National Game Pins PM8 complete, 1936 R314 Goudey Wide Pen Premiums (128 + 16 variations), 1981 HOF Metallic Plaque Cards, 1936 R311 Glossy, 1936 R 313 Fine Pen, 1947-66 Exhibit Cards (190 with Mays), large group of B14 Felt Blankets, 1907 Dietsche Detroit Tigers (11/16) Postcards and 1907 Chicago Cubs Post Cards (7/15). 1919 M101-6 Sporting News supplements, 1953 Dormand Postcards, 1937-39 Obcajo Reds Postcards, 1951 Berk Ross, 1909 Boston Sunday Herald Supps., 1909 Boston Sunday Post Red Sox Stars, 1981 Thirst Break Comics, a large group of 1927 & 1928 Exhibit cards including Gehrig, 1931 W517s, 1930 W554, 1950 R423 Strip w/Dimag & Sisler, W553 (Cochrane, Frisch, Hornsby), 1928 R315, near complete 1951T Blue Backs with several dupes (EX), real photo & cartoon postcards, 1930 Ray-O-Print, 1946-49 Sports Exchange, 1955 Topps & Bowman, large group of 1921-2 Eastern Exhibit Cards, six Fatima individual players, large group of salutation exhibit cards, small group of 1934-36 Batter-Ups, 1962T near complete stamp album, 50+ 1959 Fleer Ted Williams with Williams Signs, 1967T Pirates Stickers (25+), 1961 Topps Baseball Stamps & album, boxing vending machine exhibit marquee card fronts, Sporting News Supplement featuring Cobb & Wagner. Football cards with handful of 1958T, large group of exhibits, 1955B set. Plus, Mecca College Silks, great selection of assorted boxing cards with E75, E76, T218, T220, E79 Marvin Hart PSA 5 EX, Johnson vs. Cole PSA2, T225, assorted strip cards, Churchman's set, Famous Prize Fighters, 1948 Leaf EX with Johnson, Louis, Dempsey, Sullivan, Famous Fighters D. Cummings & Sons, 1956 Adventure (no Schmeling. Basketball cards include a 1969-70T, wrappers including 1954B and 1951T blue and red backs (4). For the most part this collection is in VG-EX condition, there is not much gradable material, however there are no real beater cards either. One could go on for hours describing this treasure trove of material in detail.
---
Past Sports Card, Memorabilia, Non-Sports Card and Collecitble Auction Items
Other past auction items that may be of interest to you.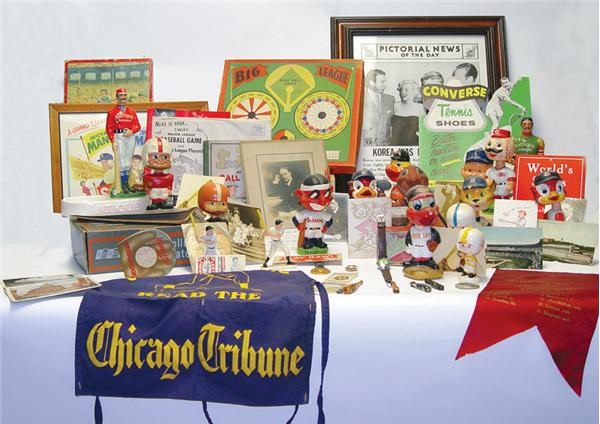 Tremendous Sports Memorabilia Collection of Baseball, Football, Boxing, Vintage Games and Much More (2,000+ pieces)