Keeping the Bar Set High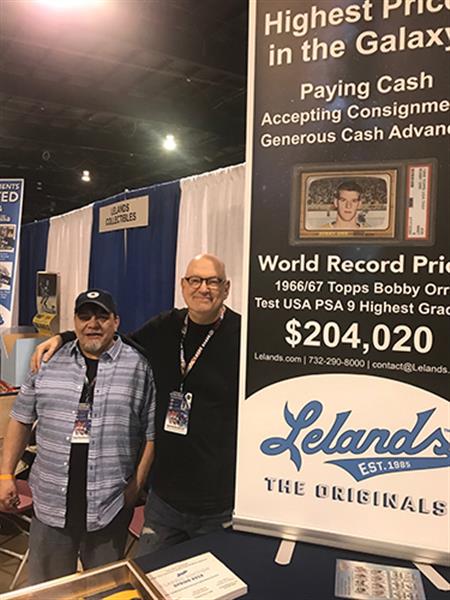 Rarely is the case that I find myself so captivated in the hobby. However, at the recent Toronto Sports Card Expo, Lelands.com possessed a Bobby Orr game worn jersey on display from their upcoming auction.
One could not miss the iconic Boston Bruins logo and Orr's familiar number 4, prominently poised on the sleeves. Rounded out by a brilliant blue Bobby Orr autograph on the chest, this stunning jersey caught the eye of nearly every passerby!
Their auction also compliments this historic jersey with a 1966-67 Topps Bobby Orr Rookie card and a rarely seen 1966-67 Topps USA Test partial set with the elusive Orr included.
Accompanying their hockey wardrobe collection is a Calder Memorial Trophy and two-time Vezina Trophy winner, "Mr. Zero", Frank Brimsek, goaltender (#1) jersey from the Boston Bruins. A colorful 1930's New York Americans jersey gives an emblematic salute to early hockey in the USA. An amazing Bobby Clarke sweater rounds out their preeminent hockey jersey offerings. We're not talking quantity here, but quality. These sweaters represent past hockey lore, from three major Hockey Hall of Famer's of the NHL's aristocracy.
Being a hockey collector almost all of my life and a historian of Canadian sports and non-sports for the past 25 years, I have found Lelands to be a great reference tool for my research through their amazing finds back to the company's inception in 1985.
Josh Evans and the knowledgeable staff at Lelands are consistent with bringing an eclectic array of sports and historical collectibles to market for the past 35 years. In a recent candid conversation with Josh, I had to ask him the ultimate question, "what gave you the foresight to start a sports collectible auction house in 1985", a time when the hobby hadn't even reached its infancy. His answer was much the same as most pioneers of industries: "I had a feeling it was time"!
A few highlights in this auction for me, although I must admit my collecting habits and feelings tend to run deep in the hockey arena are to follow. Their acquisition of the Fleer archive has brought many rarely seen display boxes to their auction. In particular, the Topps hockey display box lot of 4 is a near consecutive run of years from 1968 to 1972 and the 1958 Topps Canadian Football display box is a true scarcity considering that Canadian distribution was scant in comparison to the US hockey market.
I would be remiss if I didn't mention that the 1993 Toronto Blue Jays World Series Championship trophy is a true gem and, being from Toronto, I have fond memories of this hometown championship event.
Whatever your collecting preferences, Lelands has certainly kept the bar high with regards to quality and unique collectibles over the past decades. These well venerated auction curators currently have their finger on the pulse of the hobby bringing us the diversity and historically significant. Something we all desire.
Bobby Burrell
Hobby Historian
Book: Vintage Hockey Collectors Price Guide. Currently 98% sold, you can still purchase a copy at - vintagehockeycollector.com