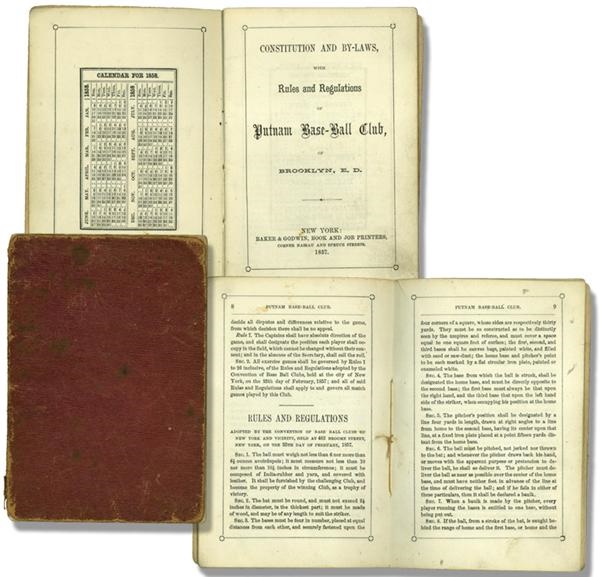 1857 Constitution and By Laws with Rules and Regulations of Putnam Base-Ball Club of Brooklyn, E.D.
Few surviving items of baseball memorabilia can be called as important as this one that comes front and center from the priceless Leslie O'Connor Collection, charting the earliest printings about the game and their impact on the game's development. Within this pocket-sized book measuring 3 1/4 x 5" are the clues of baseball's origin, and we are confident that it is the only such copy to be found anywhere. It centers on the Putnam team of Brooklyn, one of a handful of non-affiliated ball teams that played in New York City in the 1850s, which printed the booklet so as to enumerate its constitution and the rules of the game. A year later, when the National Association of Ball Players, the first league, came into being it would take its cues from the Putnam book and produce a nearly exact copy in form and language of its own constitution. Thus, the immense value of the original model for the bylaws of baseball's very first league is as obvious as a kick in the gut. The small red book was printed in New York by Baker & Goodwin, Book and Job Printers". The inside cover bears the inscription "Property of R.F. Kinsella, Springfield, Illinois" in fine fountain pen -- a very intriguing coincidence since the name conjures up that of W.P. Kinsella, author of the book "Shoeless Joe" on which "Field of Dreams" was based. Since the latter was born in Edmonton, it seems unlikely there is a connection, but there is a connection nonetheless in the baseball innocence of the Putnam book, which to boot is in amazing condition with just mild scuffing and color fading on front and back covers. Again, we believe no other copies of this precious gem exist, and if any collector believes they have a "complete" historical library of baseball's original literature, without this book such a collection would have a gaping hole.
---
Past Sports Card, Memorabilia, Non-Sports Card and Collecitble Auction Items
Other past auction items that may be of interest to you.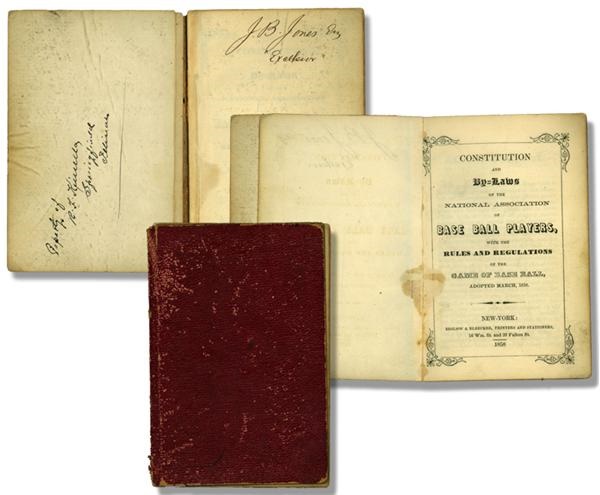 1858 Constitution and By-Laws of the National Association of Base Ball Players with the Rule and Regulations of the Game of Base Ball, Adopted March 1858