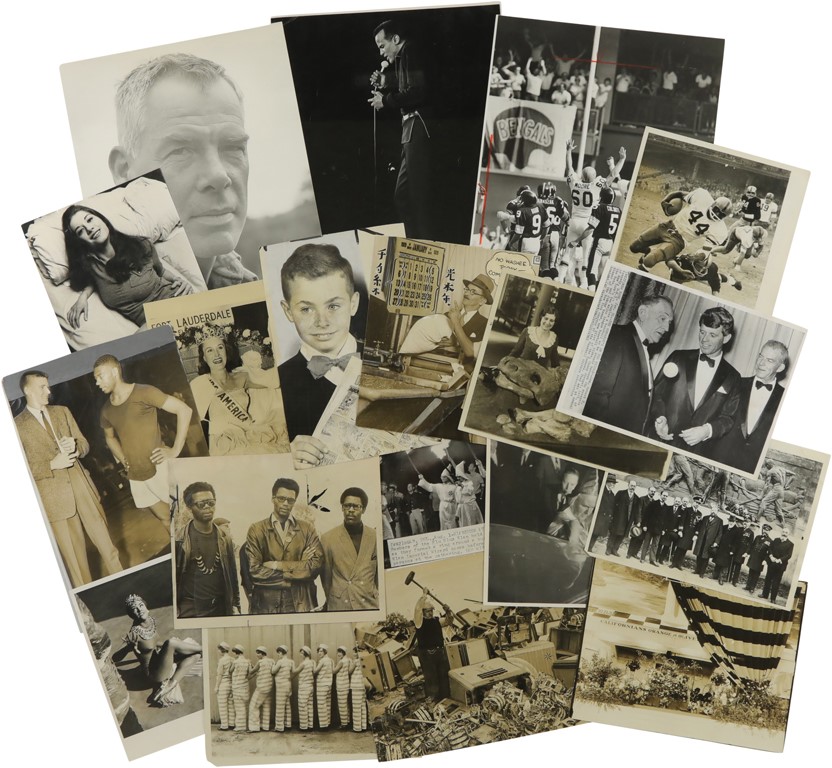 1910s-1970s San Francisco Examiner Photographs (3,200+)
Massive collection of over 3,200 San Francisco Examiner and other newspaper photographs from the 1910s-1970s. Highlights of the collection include: 1960 Filthy Book Raid; Gene Autry 1950; Gene Autry 1961; Burning Cross 1938; Disney on Parade 1971; Empire State Building 1980; You Bet Your Life 1959; Frank Marlow murder weapons 1929; J. Edgar Hoover 1939; Dick Clark 1961; Ron Pallilo 1977; Ann Gardner 1926; Guns Captured 1931; Chubby Checker 1973; Mrs. Florida 1950; Carol King 1959; Machine Gun 1931; Motorcycle Race 1972; KKK Rally 1965; Herman's Hermits 1967; NY Church Steeple 1931; Oscar Robertson 1960; 1958 Mrs. America; Floyd Little 1964; 1931 South African fossil; Chinese Laundry 1929; Black Panthers 1968; 1929 University of Kansas Halloween Party; Robert Kennedy 1965; 1931 Yorktown Victory Anniversary; 1927 Flower Show; 1960s Delaware KKK Rally; 1950 Ban on Slot Machines; 1980 Steelers Bengals game; 1923 Jackie Coogan; Alan Alda 1973; Joe DiMaggio 1970s; Eisenhower golfing; Joe Louis; Johnny Pesky; 100+ Cincinnati Enquirer with many Bengals football; many photos of gun seizures; Vietnam protests; Monty Python; James Bond; Teamsters Riot; Shah of Iran; Judaica; Tommy Lee Jones; William Hurt; World's Fair (back to 1913); political circus; military; ships; gambling; Marie Curie; Whitaker Chambers; Disney; Churchill; JP Morgan; The Dirty Dozen; WWII; Oliver Stone; 1970's women's lib; Suzanne Somers; Bill Bixby and Hulk; early Hollywood; Bonus Army; Algerian Revolution; and many, many more. Overall condition varies but mostly in Very Good condition.
---
Past Sports Card, Memorabilia, Non-Sports Card and Collecitble Auction Items
Other past auction items that may be of interest to you.