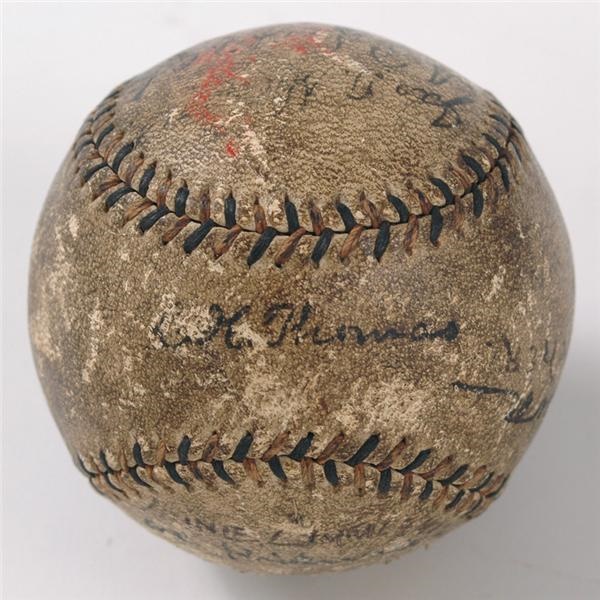 1912 Chicago Cubs Team Signed Baseball
Nothing less than one of, if not the, earliest signed baseball we've ever seen, and we've seen nearly all of 'em. How early are we talking? Fact one is that this antique horsehide was signed by members of the 1912 Chicago Cubs -- make that the pre-Wrigley Field Cubs. The Cubs whose home was West Side Park. The Cubs whose very name still took some getting used to, having replaced "White Stockings" and "Colts" not long before. The Cubs who had won 4 NL flags and 2 world championships in 5 years from 1906- 1910. The Cubs whose 1908 World Series victory still stands as the last one in franchise history. <i>That's</i> how early we're talking. It's doubtful any older team signed ball exists, as the practice of players attaching their names to a ball actually didn't become common until the '20s. It's providential, then, that this one is immortalized by the dominant National League team of the early 20th Century, though by 1912 their dynasty was over. Not because they had gone south -- they went 91-59 that season -- but because both John McGraw's New York Giants and Honus Wagner's Pittsburgh Pirates had caught up to them, with the Giants taking the pennant by 10 over the Bucs and 11 1/2 over the Cubbies. Still, the most famous Cubs were still around -- including second sacker Johnny Evers and pitcher Mordecai "Three-Finger" Brown -- and their signatures represent obviously the earliest such signatures that can be found of these HOFers. While any stampings on the ball have long since faded away, and the surface has been ravaged by time in the form of oxidation that's turned the hide dark brown (though with white flecking that actually seems to give the ball a golden glow), amazingly most of the signatures are strong, clear and readable. (Thank goodness for quality black ink in 1912.) This includes Evers, as "J. Evers," on the sweet spot right under the marker of team owner Charles W. Murphy. Brown's, as "M. Brown," is on a side panel right above catcher Jimmy Archer. Others signatures include Charlie Smith, Jimmy Lavender, Jimmy Sheckard, George Pearce, A.P. "Lefty" Leifield, Heinie Zimmerman, C.K. Thomas, etc. Approx. 16 signatures in all, ranging from 3 to 7, with Evers, Brown and Murphy among the best. There is some evidence of decades old enhancement, but it is minimal. The very definition of "one of a kind." Build a separate display case just for this one. It deserves the honor.
---
Past Sports Card, Memorabilia, Non-Sports Card and Collecitble Auction Items
Other past auction items that may be of interest to you.