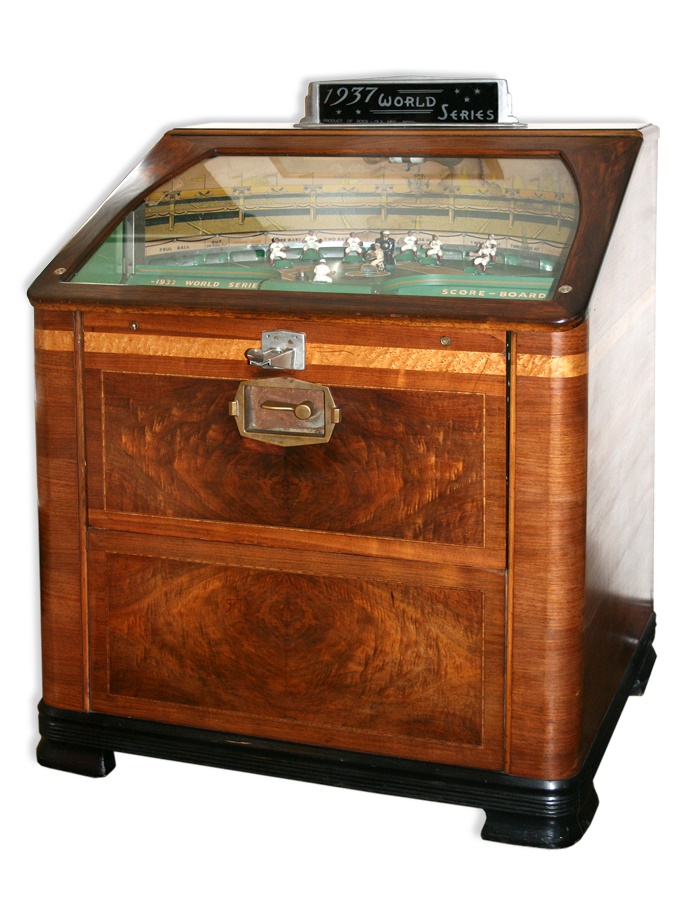 1937 Rock-Ola World Series Coin-Op
The King of the Coin Ops. The Prince of Pinballs. The Genghis of Gaming. The 1937 Rock-Ola World Series is universally regarded as the finest baseball coin op game ever produced. This state of the piece is as timeless in design as it is in play. Stunning master of functional furniture is an art deco dream. Topped by a marvelous frosted glass sign set in chrome, it reads simply "1937 World Series." Peer through the glass inside its mighty rich walnut with matchbook veneer paneled body and you will see a baseball "field of dreams." The stands are ornately detailed and the playing field is as green as the Wrigley Field or Yankee Stadium. Carnival kids fantasized for a nickel that they were REALLY playing there. Well this true to life All Star game did not disappoint. The scoreboard shows a Yankee heavy batting roster with Lou Gehrig, Joe DiMaggio, Carl Hubbell and Bill Dickey among others. The fielding team shows their names painted in white on the green playing field right at their cast iron feet: Ducky Medwick, Luke Appling, Earl Averill, Charlie Gehringer, Dizzy Dean, Bill Terry, and Gabby Hartnett. Finally, the pitcher is ready to make his pitch. The fielders come to life as they scramble in place to field the batted balls made by the mighty man at the plate YOU control. The umpire calls balls and strikes, and the game goes on for eternity. Batters change with the order as the complicated scorecard mechanism records this to make for competitive action of any combination of boy versus man versus machine. This is one of the finer condition specimens known. It is in excellent working condition. A complete condition report will be available on-line. Lesser examples have consistently sold in the $40,000 range. Many of the great collectors have owned a 1937 Rock-Ola World Series. Halper. Merkin. You? Take the chance to have, and be, a King in your own court.
---
Past Sports Card, Memorabilia, Non-Sports Card and Collecitble Auction Items
Other past auction items that may be of interest to you.