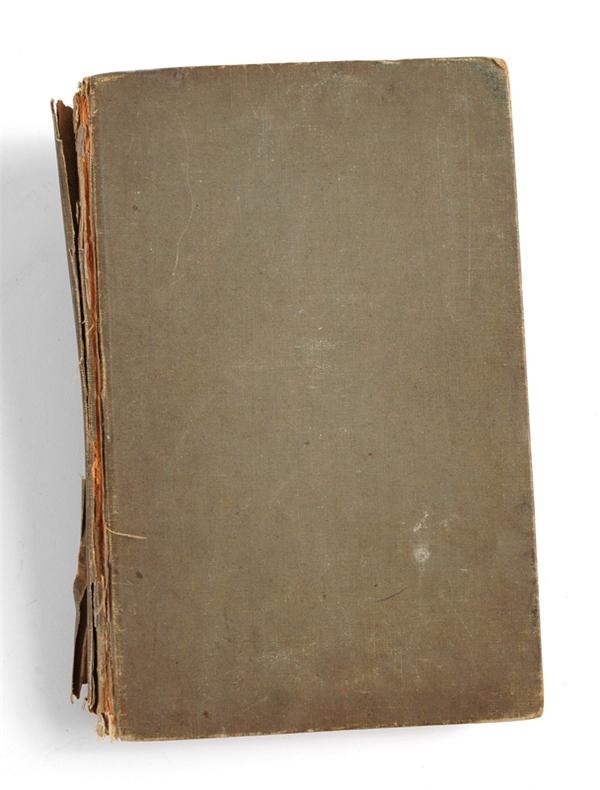 1939 Program Book with Josh Gibson
The historic value of this bound collection of weekly "Baseball de Puerto Rico" programs from the 1939-40 Puerto Rican Winter League season is beyond belief. Here, thanks to a very industrious fan lucky enough to have seen some of the top black and Latin players ever -- including perhaps the most fearsome pitcher and slugger of 'em all, Satchel Paige and Josh Gibson -- is a complete record of that season and who played in it. For Negro league historians in particular this is a mind-numbing find since never before has a Paige or Gibson season, either in or out of the U.S., been charted so fully. Indeed, one can follow them respectively with Santurce and Guayama week by week in boxscores and in the league leager listings. The March 10 board, for example, shows Gibson 2nd in batting, with a .372 average and a league-high 6 homers. The leader? None other than the esteemed Perucho Cepeda, Orlando's daddy, who was hitting .375 with a league-best 44 RBIs. As for Satch, pitching leaders were not kept (though one can piece them together through the boxscores) but, amazingly, he was 8th in <i>hitting </i> with a .333 mark! By the last few games in April, Josh was conspicuouly absent from the boxscores (at the time few knew he'd been sent home after an incident when he was found nude in public). Satch's team, meanwhile, made it to the championship playoff against San Juan, and hurled a magnificent 2-1 victory in one game, and first base in the last triumphant game! The boxscores are rife with other great Negro leaguers like Dick Seay, Roy Partlow, Spoony Palm, Ray Brown, and Paige's "caddy" Bill Perkin, as well as great Puerto Rican players like Cepeda, Tetelo Vargas and Hiram Bithorn, the first native to play in the big leagues. On the inside of the cover, some of stars of each team are handwritten in pencil, though curiously, Josh and Satch are not among them. While the brown cover of the book is frayed in spots and a bit rough on the spine, the books inside are still securely bound and the programs themselves are generally EX-MT. Perhaps the best feature are the riveting cover photos that lend a Life magazine look to them. The Gibson cover (January 7, 1940) showing him swinging a bat with a smile actually clears up a mystery for collectors of arcane Puerto Rican baseball memorabilia, since for years there's been a mystery about a Gibson Toleteros card from the early '50s. Because this was after Josh's death, many have assumed it was Josh Gibson Jr. However, the photo on the card is the same one as on the program, it now appears that the card was issued as a commemorative to honor Gibson's memory. Among the other Negro Leaguers who made the cover are HOFer Leon Day (January 14th), seen hurling a pitch. Native greats on the cover include Cepeda (January 21st) shown fielding a grounder and Bithorn (December 24th), pitching on the mound. Unfortunately, Paige didn't get a cover, perhaps because league officials didn't know if he'd stick around for the whole season. Again, these programs provide the best record of any season involving Negro league players. Period. End of subject. Thus, what we have here is one of the most important pieces of the genre imaginable.
---
Past Sports Card, Memorabilia, Non-Sports Card and Collecitble Auction Items
Other past auction items that may be of interest to you.