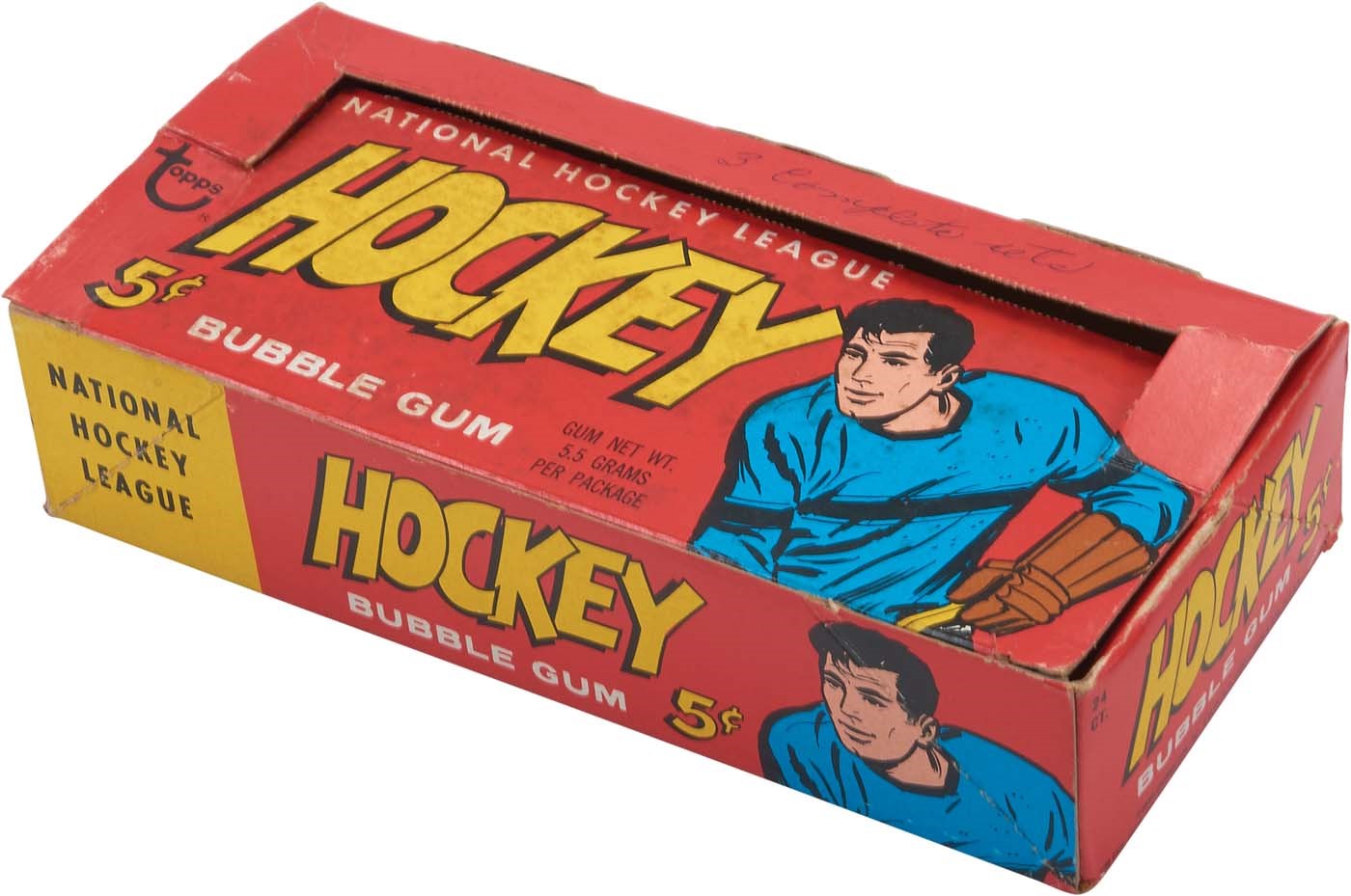 1966-67 Topps USA TEST Wax Display Box - Rare!
Sometimes we believe we will never actually see an item which has been discussed so fervently, and we at Leland's are not speaking of the Loch Ness Monster or Bigfoot, but the fastest-growing segment of the Leland's auction company, sports trading cards, especially those produced in very limited quantities. Many of these limited items within the card industry revolve around the so-called "Test Issues." Have you ever seen a 1961 Topps Test Dice Game baseball card? Or how about a 1968 Topps TEST basketball card? These test items are so rare, the average collector will never see a real example and those cards which actually come up for auction usually command a minimum five figures... even for low grade examples. Offered is one of the rarest Hockey "card" products ever produced, an empty display box of the 1966-67 Topps USA TEST hockey set. This rare test set was limited to 66 cards, and includes the ultra-rare Bobby Orr TEST rookie card, the most desirable card in the hockey card hobby. The term "test issue" refers to the Topps company having a brainstorm about a new product, which would be produced in very limited quantities and distributed in tightly controlled areas. This was done to see how the products sold and what the "talk" was regarding the test issue. Since the company was based in Brooklyn, Topps often used its own backyard as a venue, but also used areas of Michigan (most notably 1975 Topps Minis) and parts of Baltimore (1966 and 1967 Punch-outs) and Philadelphia (1968 Topps 3-D baseball cards). In the hockey card world, the well known 1966 Topps Hockey set was produced for regular distribution, including cards of the Original Six hockey teams, and had backs in English and French. However, Topps also produced a small amount of cards with backs in English only, for distribution in a few small pockets of the contiguous 48 states. Debates relate to the actual test markets, with some advanced hockey collectors believing Topps sold these cards in hockey hotbeds of Southern California (another well-known "test" market) and an area of South Carolina. Other collectors "know" the 1966-67 Topps USA Test Hockey cards were distributed at the usual handful of candy shops in Brooklyn. Whatever the case, the product was real (we MAY have a nice card of Bobby Orr in this catalog!), is rare (estimates about as little as 100 sets of 66 cards total were made), and they are highly desirable. In addition to valuable and scarce sports cards being hot commodities right now, a growing segment of the hobby is the collecting of those items which housed the cards, including unopened packs, full boxes, wrappers and also display boxes. These empty display boxes are very popular due to scarcity (most were tossed away), and attractiveness of colors and designs. This USA TEST box was produced in a very attractive burnt orange, possibly coinciding with a fall release, with a contrasting bright blue uniformed hockey player on the top. It can be distinguished from the regular issue set by the entire league name "National Hockey League" being printed on front as opposed to just the initials "N.H.L." The offered box, which has been in our consignor's collection for over 40 years, has the perforations separated, with some foxing and light stains on the top, plus a some very light tears at the perforation corner seams. In addition, the phrase "3 complete sets" is written in ink near to the top border. If you are thinking, "Wow!, three complete sets?" we were of the same thought, and our consignor confirmed to us he actually opened the packs and boxes years ago. And yes, our consignor did pull the Bobby Orr card lot directly from one of the packs from this exact box. The ultra-rarity of this item can not be underestimated. This is the scarcest hockey related card item extant, deriving from a long held collection of the scarcest and most desirable hockey set in the entire hobby. We had this box on display at the 2017 National Convention and long time hockey collectors and display box collectors were in awe of this 1966-67 Topps USA TEST hockey display box. We know of only a handful of these display boxes in the entire hobby, and our research has indicated not a single example has publicly changed hands. This is the collective hobby's first opportunity to obtain the scarcest display box in hockey card history, maybe in the entire card collecting hobby itself.
---
Past Sports Card, Memorabilia, Non-Sports Card and Collecitble Auction Items
Other past auction items that may be of interest to you.