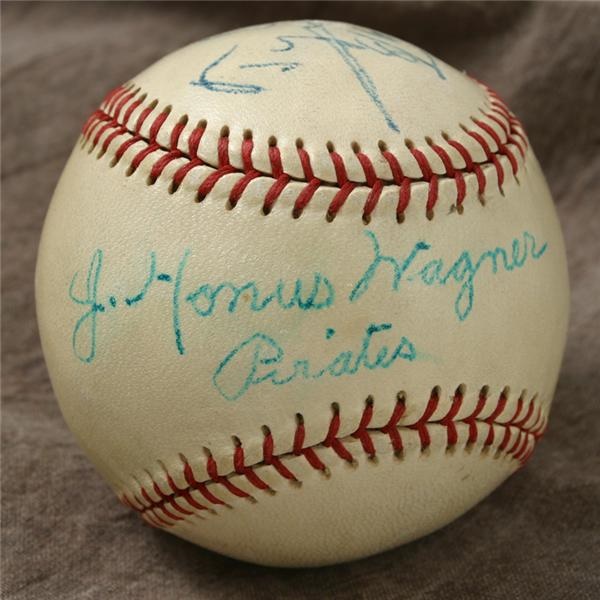 Happy Chandler's Personal Honus Wagner and Ty Cobb Signed Baseball
Some baseballs are autographed by rote over a plate of linguini on the clubhouse buffer table. And then there are baseballs -- well, actually only one that we know of, this one -- that was autographed by 2 of the game's greatest players of all time, Honus Wagner and Ty Cobb, at the behest of a Baseball Commissioner. The ball, certainly one of the finest and rarest items we've ever handled, and one we're particularly proud to offer, was the personal property of Albert Benjamin "Happy" Chandler, the former Kentucky Governor and U.S. Senator who upon the death of the prunish Kenesaw Moutain Landis in 1945 was elected Commissioner by an onwership clique trying to hold the line on integration and player freedoms. As it turned out, the owners weren't too happy with the easygoing Chandler, who actually made some quiet and subtle progress on both fronts, and did provide cover for Branch Rickey to seriously move toward signing Jackie Robinson -- at least he held a dialogue on the issues rather than sweep them under the carpet -- and it eventually cost him his job 5 years later. The irony is that, unlike Landis, Chandler actually was a baseball fan who as a child revered early 20th Century players, especially Ty Cobb and Honus Wagner. It made him very happy indeed to see his HOF plaque on the same walls where Cobb and Wagner's hang when he was elected to the Hall in 1982, 9 years before his death at age 92. Just as it no doubt was a dream come true to be able to get Cobb and Wagner to sign what was his most cherished baseball. The baseball is signed, "J. Honus Wagner, Pirates" in green ink upon the sweetspot, and signed and dated on a side panel, "Ty Cobb 8/6/46" in blue ink, meaning that the Cobb marker is definitely vintage to Chandler's reign as Commissioner. Both signatures are exceptionally bold (9/10), and it is worth noting that there are conflicting opinions as to whether the Cobb signature on the ball has been enhanced. After a thorough examination, it is the opinion of Leland's that the Cobb signature is present in its original state and has not been enhanced or modified in any way. The Ball itself is a creamy white and rates NRMT, save for some fading of the league and manufacturer stamps. A truly amazing piece of memorabilia which pays homage to two of Baseball's all-time greats and has the added prestige of originating from the personal collection of a revered Commissioner who played a significant role in the games' history. Accompanied by a letter from the Chandler Family.
---
Past Sports Card, Memorabilia, Non-Sports Card and Collecitble Auction Items
Other past auction items that may be of interest to you.