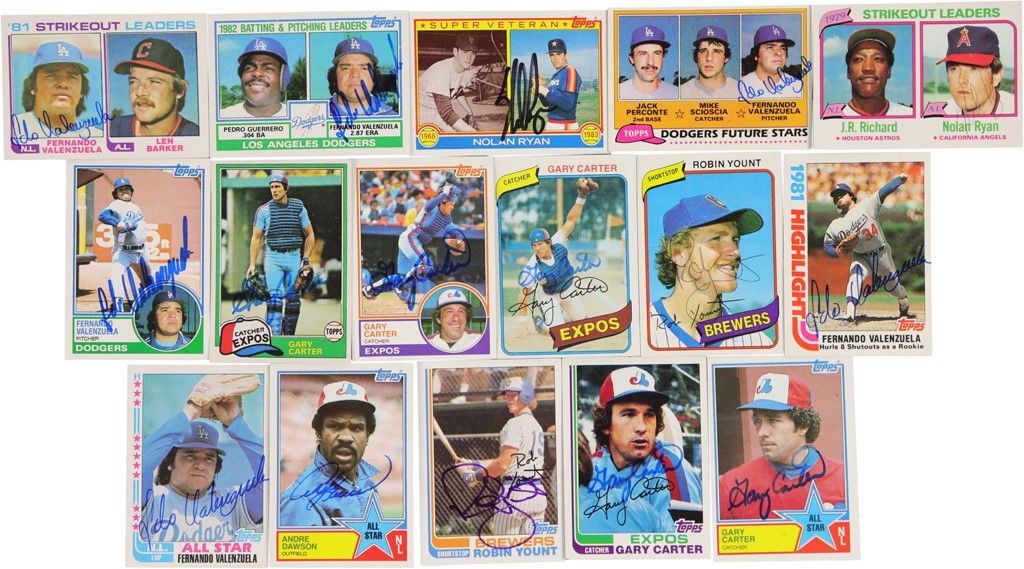 Huge 1980's Topps Signed Set Run with Hall of Famers and Rookies (4,500+ Cards)
For all of you 1980's baseball fans out there is this tremendous collection of 1980's signed cards. Largely partial sets, this collection features stars and commons alike, all period signed and includes: 1980: Ryan (#206 and #580), Brett, Molitor, Carter, Murray, O. Smith, Sutton, Blyleven, LaSorda, Morris, Murcer, K. Hernandez, Eckersley, Guidry, Garvey, Murphy, Yount, Torre, Fisk, Sutter, Niekro, Dawson, Trammell, Concepcion, Lynn, Rice, Buckner Perez and more; 1981: Ryan, Valenzuela (#850, #302, Yount, Carter, Molitor AS, O. Smith, O. Smith RB, Murray, Rice, Sutton (3), Sutter, Raines, Raines FS, Lynn (2), Geronimo (2), Fisk, Fisk AS, Trammell, Haddix, Anderson (2), Houk, Weaver, Eckersley, Murcer, Sutter, Perez, Morris, Blyleven, Garvey, Murphy, Gossage, Niekro, Concepcion, Baines, Gibson, Guidry, Jenkins, McGraw, Dawson, Buckner and more; 1982: Ripken Jr. Traded, Ripken Jr. Future Stars, Ryan, Ryan Highlights Yount, Carter, Dawson, Valenzuela, Valenzuela AS, Valenzuela Strikeout Leaders, Valenzuela Highlights, Molitor, Murray, Murray BL, Murray HR Leaders, Murray RBI Leaders, Morris AS, Gossage AS, Gossage, Trammell, Smith, Morris, Blyleven, Baines, Murphy, Concepcion, Concepcion IA, Sutter AS, Concepcion AS, Dawson AS, Sutton, Sutter, Perez, Perez IA, Lynn (2), McGraw, Murcer, Niekro, Garvey (2), Sutter Relievers, Raines Leaders, Gibson and more; 1983: Ryan, Ryan Veteran, Sandberg RC, Boggs RC, Gwynn RC, Ripken Jr., Valenzuela, Valenzuela Leaders, Dawson, Murray, Molitor, Carter, LaSorda, Blyleven, Eckersley, Gossage (2), LaRussa, Geronimo, Herzog, Sutton (2), Trammell, Morris, Rice, Fisk, Perez (3), Murray Leaders, Garvey, Houk, Murcer, Anderson, Garvey, Raines, O. Smith, McGraw, Gibson , Weaver, Dawson AS, Carter AS and more; 1985: Molitor, Dawson, Perez, LaSorda, LaRussa, Anderson, Cox, Niekro, Houk and more; 1986: Molitor, Perez, Perez RB, D. Williams (2), Cox, Anderson, LaRussa, LaSorda, Franco and more; 1987: Anderson, LaSorda, Reynolds, LaRussa, D. Williams and more; 1988: Raines, Kruk, Franco, LaRussa, Smith, O'Neill, D. Johnson, LaSorda, Baines, Anderson, Galarraga and more; 1989: Maddux, Galarraga (2), Kruk, Anderson, Baines, Smith, Raines and more; 1981 Stickers: Ryan, Carter, Yount, Molitor, O. Smith, Perez, Sutton (2), Niekro (3), Morris (3), Guidry, Sutter, McGraw (3), Gibson (3) and more; and 1982 Stickers: Ryan (2), Yount, Dawson, Trammell, Perez, Morris (2), Raines (3), LaSorda (2), Buckner, Niekro, Sutter and more. Possible 3-5% secretarial.
---
Past Sports Card, Memorabilia, Non-Sports Card and Collecitble Auction Items
Other past auction items that may be of interest to you.