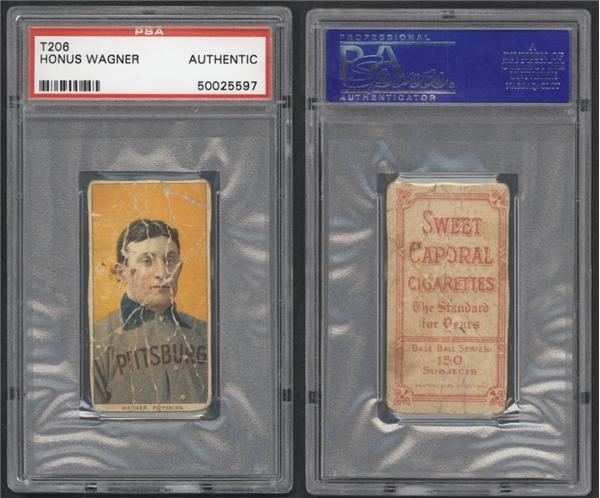 Newly Discovered T206 Honus Wagner
In the annals of sports collecting, a more monumental piece does not exist than the T206 Honus Wagner. Widely known as the "Mona Lisa" of trading cards, this 1.5x2.5" piece of cardboard featuring a one-sided color lithograph of the Flying Dutchman is the cornerstone of all acquisitions. Wagner, a charter member of baseball's Hall of Fame is regarded as one of the greatest all-around players in the history of our Great American Pastime, but it is specifically the legend of his T206 card that made Honus Wagner a household name in America. As the story goes, Wagner himself ordered the recall of his tobacco cards back in the 1910's because he didn't want to be associated with the American Tobacco Company. Subsequently, there are only about 50 known examples in existence, making this fresh unveiling all the more important. The T206 Honus Wagner offered here is the latest important discovery. It has remained buried in the private collection of one family since the time of its issue back in 1910. Graded "Authentic" by PSA, it exhibits creasing, rounded corners and 3 trimmed edges (the top and 2 sides). The gentleman who had originally owned the card had stored it in his wallet from the 1920's to the 1940's, which would explain why it has been trimmed. The reason this specimen was kept so close, his family explains, was very early on, long before other collectors and possibly even before the hobby of collecting itself, their father realized the significance of such a rare piece. Since then the Wagner has become an heirloom, a prized possession passed from generation to generation until this very moment. Discovered recently amongst a collection of over 450 T206's, this jewel is an unknown and uncatalogued T206 Honus Wagner. The fact that it even exists today is made even more extraordinary considering that in 1980 the consignor's home was burglarized and most of their valuables stolen. Fate though saved this card as the intruders overlooked their extensive card collection and in the process left behind the most priceless item of all. Unwilling to press their good fortune any longer the family immediately moved the Wagner into their private vault for safer keeping. Now, seeing the light of day for the very first time in over two decades , this exciting new discovery will indelibly be propelled into the international spotlight, making another splash in the oceanic history of sports card collecting.
---
Past Sports Card, Memorabilia, Non-Sports Card and Collecitble Auction Items
Other past auction items that may be of interest to you.