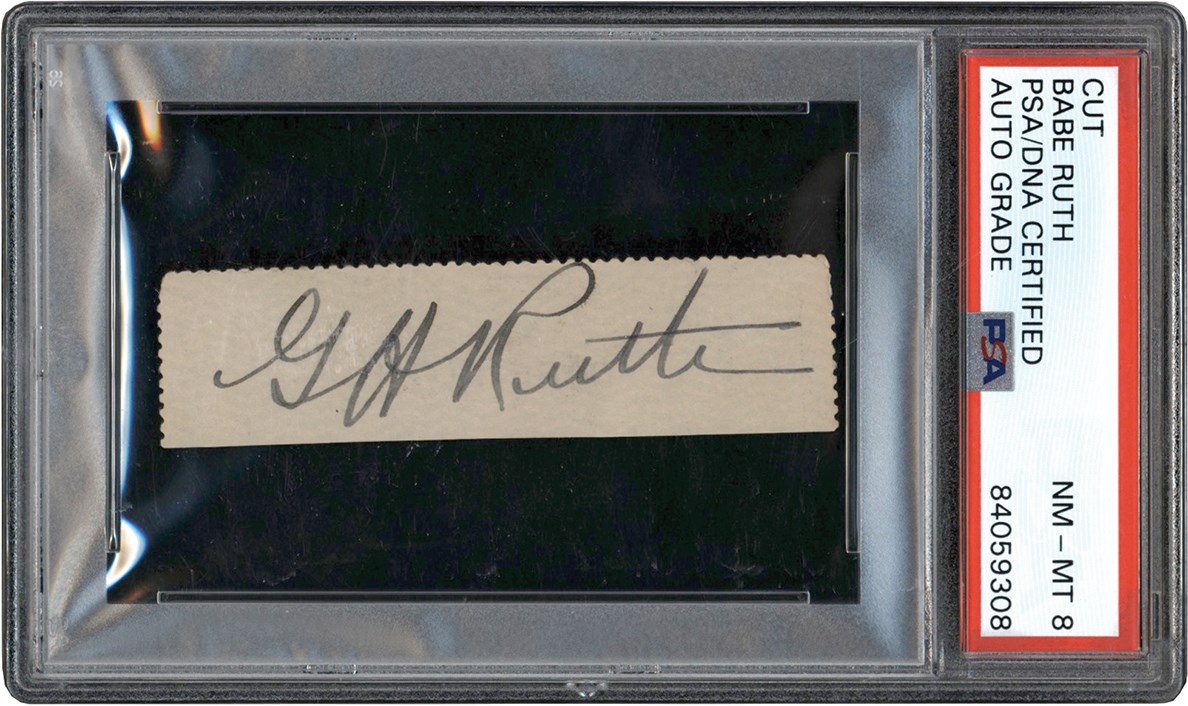 old Babe Ruth Autograph (PSA NM-MT 8)
What if you had the chance to add to your sports collection the big and bold, elegantly scripted formal signature of the baseball player who is the Greatest of All Time? Well, here is that opportunity. Offered is the cut signature of Babe Ruth, the Baseball GOAT. The Babe's career is the stuff of fiction - except that it is all true. Spending much of his boyhood living at St. Mary's Industrial School for Boys, a Catholic school in Baltimore, Babe found a mentor in the 6'5" Brother Matthias, a St. Mary's administrator and a superior baseball player himself. Brother Matthias was heavily involved in promoting baseball for the students at St. Mary's. In later years, the Babe recounted that he modeled his swing after that of Brother Matthias, a man who swung for the fences and impressed the boys at St. Mary's with his fence busting power. Baseball was big at St. Mary's - amazingly big. Leagues were organized by floors and classes, and many boys like Babe played 10 games a week from March through October. In other words, Babe Ruth played over 300 games a year at St. Mary's. His natural talent and the opportunity to play so relentlessly, provided the perfect combination of nature and nurture to produce a baseball marvel, a player whose skills were so great as to be unworldly. Starting his Major League career with the Boston Red Sox as a pitcher in 1914 when he was only 19 years old, Babe pitched in four games that season, then came into prominence from 1915-19. Although he sometimes played in the field, Ruth was primarily a pitcher in these years. He was terrific. Ruth won the 1916 American League ERA Title, with an earned run average of merely 1.75. His overall pitching record in the Major Leagues was 94-46, with a 2.28 ERA, and he once held the consecutive scoreless innings World Series record at 29.2. With the New York Yankees, Ruth was mainly an outfielder, with power that was immense. For example, in 1921, when Babe hit a then-record 59 home runs, Ruth hit more homers than did each of the other seven teams in the league. Ruth's lifetime total of 714 homers and his single-season mark of 60 round trippers were the standards for decades. He also hit for average - a .342 career mark. The Bambino still holds the all-time Major League records for both career slugging average (.690) and lifetime OPS (1.164). The displayed Ruth cut signature is on a cut of paper measuring 0.75x3". Ruth, who threw with his left hand, was taught in school to write with his right hand, and he learned magnificently, with classically beautiful script. The Babe's signature, in blue ink from a fountain pen, is a formal one, not as prevalent as his signing with his nickname as "Babe Ruth." In the offered signature, Ruth signed as "G H Ruth" (for his given name of George Herman Ruth). The cut signature has been encapsulated and has been PSA/DNA certified as AUTO NM-MT 8. The Babe once said, "I swing big, with everything I've got. I hit big or miss big. I like to live as big as I can." All that bigness is even evident in this Ruth signature. It's a home run.
---
Past Sports Card, Memorabilia, Non-Sports Card and Collecitble Auction Items
Other past auction items that may be of interest to you.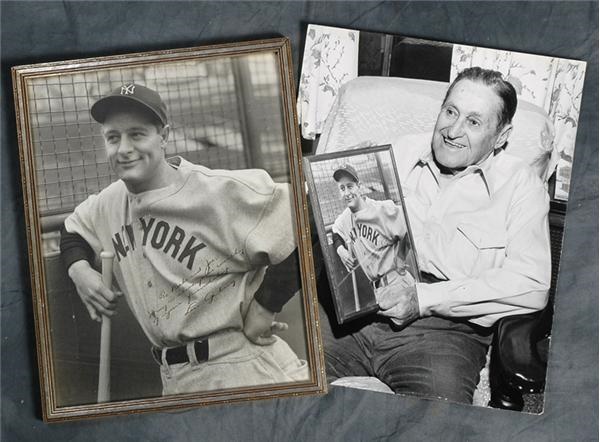 Exceptional Lou Gehrig 11x14" Signed Photograph to Joe McCarthy and his Wife "Babe" (secretarial)